Angel Investing: Keynote Panel
Angel Investing – The Inside Scoop

Angel investments are as old as the world yet not often the first in mind when it comes to finding the funds to start your business. Angels - the word kind of says it all - can be a match made in heaven. They often are Entrepreneurs themselves, having had some/considerable success - and they now want to pay it forward and assist business startups just like yours. Funding studies sponsored by Harvard Business School provide evidence that angel-funded companies have historically been less likely to fail and there is a good reason why...

We are going to share exactly why it can be great to have an Angel Investor in your business. And share all there is know about angel investments. We've invited a panel of key Angel Investors to help educate you on how to approach them, what they look for and how to get them to consider funding your venture. Before you launch your business idea, you must attend EFactor's presentation on Angel Investing in Chicago.
Keynote:
Greg Grove, Principal, Much Shelist - raising capital from the legal perspective
Gregory D. Grove, a Principal in the firm's Business & Finance group, concentrates his practice on private equity, venture capital and corporate transactions and counseling. He advises funds, boards of directors, management teams, underwriters, and private and public companies at all stages of development, from entrepreneurial to established, operating in a wide range of industries.
Seyi Fabode, CEO & Co-Founder of Power2Switch - raising capital from the entrepreneur perspective
Seyi Fabode is the CEO/Co-founder of Power2Switch, a website that enables residential consumers to make responsible decisions about their energy usage and expenses. He was an operations analyst at EnergyQuote, an energy brokerage and management firm in London and commercial/operations analyst for Barking Power Station in London. Seyi has an MBA from the University of Chicago, Booth School of Business and an MSc in Manufacturing Systems Engineering from Warwick University in the UK. Passionate about family, empowerment and the written word Seyi is the author of Alien #2102 (a short novel of intertwined immigrant stories set in Chicago).


Angel Investors:
Sponsors:

Event Tip: Are you an EFactor event pass holder? Get your all inclusive ticket to events for the year with our events package. Each event city hosts six events per year which means a whole lot of knowledge at a really great price. Enroll today and save!

Please let us know via Member Support if we can assist you with anything at all.

Join the conversation with #efactorevents
---
Recap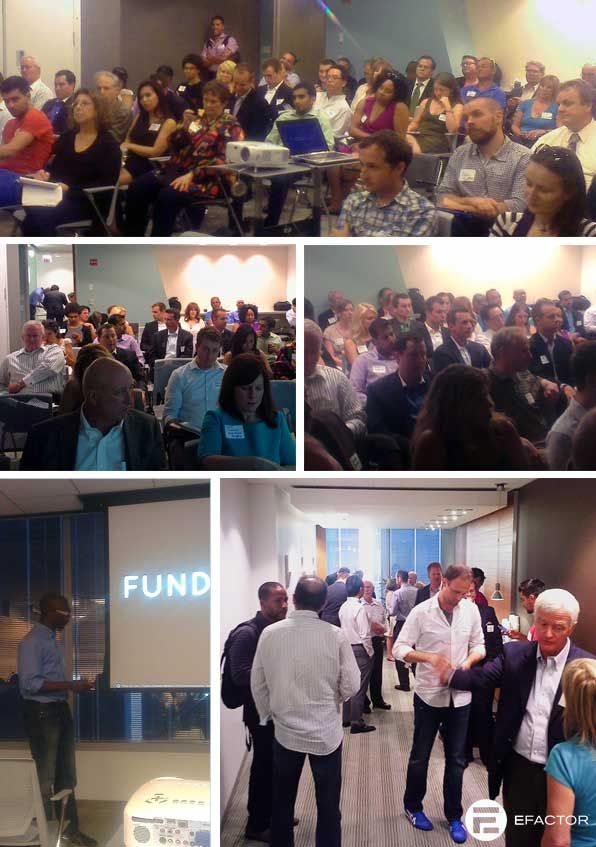 "This EFactor event was one of the best I've attended. The Angel Investment panel discussion was the highlight. The insights, wisdom and candid dialog from the top-flight investor groups was extremely valuable."
Bob Lambert
Partner
Samurai Business Group
"Tonight's EFactor event was fantastic, from start to finish. The presentations by Greg and Seyi were wonderful and informative. What an impressive and illustrious panel of angel investors (Karin, Larry, Ron, Gale and Craig) you assembled together. I greatly appreciated how generously and openly they shared their insight, experience, expectations and process for funding. As a woman business owner, I especially appreciated having two women angel investors on the panel too. I knew everyone attending (and the room was packed), learned a lot, ate and drank great food, and enjoyed the networking opportunity. THANKS!!!"
Marcia Schurer
President, Culinary Connections
EFactor members got an inside look at angel investing on Wednesday, August 21. The speakers included a venture attorney, an entrepreneur who raised capital, and five local angel groups. Each speaker provided insights into the world of angel investing. Attendees learned valuable lessons such as:
It is better to have revenue when approaching professional angel investors
It is important to get a warm introduction to an investor
It can be a full-time job raising capital
Your pitches will get better over time
Make sure to have good legal counsel when raising capital
If you attended, we'd love your feedback. Here's a
short survey
where you can share what the event was like for you and what you'd like to see at future events.
Attending
Agenda
Note on Pricing:
Regular Price - $10
Start Time: 6:00 PM
End Time: 9:00 PM
"Every person can be a entrepreneur, if they have the zeal to surpass the problems with ease. "
Ajay Prasad on Sep 1, 2013
"Hello, Will the program be starting at 6pm or will there be a networking period? Thank you."
Molly Dunn on Aug 21, 2013
"I'm trying to purchase multiple tickets and it won't let me. Please advise! "
Lauren wetherbee on Aug 6, 2013
"Hi Lauren, Have you tried again? We had others purchase today- please let me know if you were able to register; thank you! :)"
Michelle Fetsch Aug 8, 2013
"Can't register...website doesn't respond due to a long running script Dan Kreutzer Samurai Business Group LLC d.kreutzer@samuraibizgrp.com 312-863-8580"
Dan Kreutzer on Aug 1, 2013
"Hi Dan - We've sent you a message on your profile. Look for a message from Michelle. Thank you! Mea"
Mea Chavez Aug 2, 2013