How to Become a Key Person of Influence
Join EFactor's premier party for entrepreneurs and investors featuring the shark Kevin Harrington (from ABC's Shark Tank) at the glamorous British Motor Cars building at 901 Van Ness in San Francisco from 6 p.m. to 9 p.m. on August 19th.
Every Attendee Enjoys
Networking
$20 Uber credit (for first time users only)
$50 flight credit with Visionary Air
Live art and music
Food and beverage
Dessert from local ice cream truck Garden Creamery
Raffle Prizes
1-hour of coaching with Kevin Harrington, a $5,000 value
Trip for 2 Around the Bay in a Private Plane with Champagne, a $500 value
With Serial Entrepreneur and Shark - Kevin Harrington
EFactor is excited to feature Kevin Harrington, principal architect of the infomercial industry and ABC's "Shark" investor on the television series, Shark Tank.
Since 1984 Kevin Harrington has been involved in over 500 product launches which have resulted in sales of over $4 billion worldwide with 20 products that reached individual sales of over $100 Million. Founder and CEO of several entrepreneurial companies including HSN Direct, As Seen On TV, and Quantum International Ltd., he has recently published a book, "Act Now: How I Turn Ideas into Million-Dollar Products." Read our exclusive interview with him.
There's no question that Kevin knows a lot about starting up, growing a successful business and being a key influencer; and he is coming to EFactor San Francisco to share his expertise with our members.
Join us for this unique opportunity to hear from a serial entrepreneur. Gain valuable information about being a key influencer and launching your business into a million-dollar market.
Reserve your pass now and enter to win an exclusive one-on-one session with Kevin Harrington, a meeting valued at $5,000. Get advice from a real "Shark" about turning your project into the next big thing!
VisionaryAirlines is donating a $50 flight credit to all attendees for either a scenic tour of San Francisco or a destination of your choice. Further, there will be a special giveaway for a trip for 2 around the bay with Champagne ($500 value).
Tickets are on sale now at the rate of $45. Complimentary food and beverage service is included with attendance.
Kevin's book "Act Now: How I Turn Ideas into Million-Dollar Products" will be available for sale at the event.
EFactor VIP members are invited to be a guest at no charge. VIP's have the option to attend a private reception from 5-6pm the day of the event, providing the opportunity to network with other entrepreneurs, mentors, and investors.
Become EFactor VIP by logging into your profile at www.efactor.com and upgrading to VIP membership.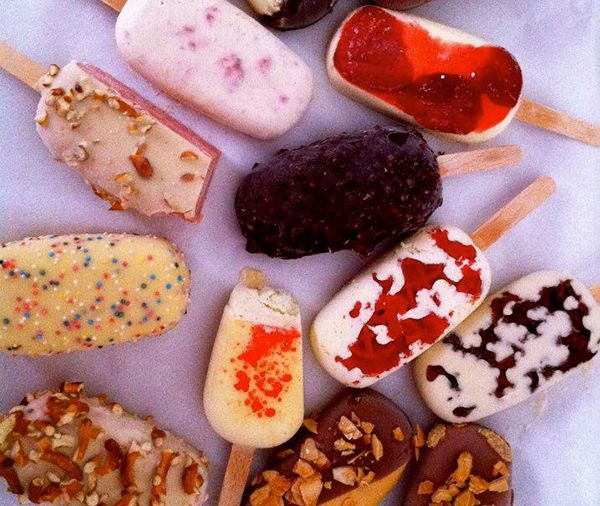 SPONSOR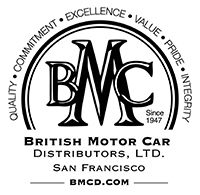 If you are interested in sponsoring or have any questions, please contact
Michelle
.
Just a tip: If you are planning on attending more than one of our events this year (each city hosts at least six events), why not get our Events Package for only $45.
Enroll today and save!
Please let us know via
Member Support
if we can assist you with anything at all.
Join the conversation with #efactorevents
---
Recap
We networked till we dropped on Monday night at the Jaguar dealership where guests met one another, mingled and anticipated Kevin Harrington's presentation. Attendees wandered about the BMC showroom tasting Los Osuna tequila, observing works being painted live by artists Leonardo Ibarra and Carla Avruch, pausing for a photo inside the Photo-matica booth, sipping cold Zico, and indulging in the beauty of Garden Creamery desserts.
Brian Banmiller kicked the night off with sponsor introductions before Kevin Harrington took the stage and talked about the current product market and shared tips about how to launch your product idea into a million-dollar market. Guests got the opportunity to ask the "shark" their burning questions in an intimate fireside Q&A session, and by the end of the program some even got the moment to quickly chat with Kevin about their idea.
In the end the energy was high and so was the excitement, especially when we announced the winner of our private champagne flight for two around the Bay courtesy of Visionary Air. We'd like to congratulate EFactor member Anthony Gonzalez of Synergy Corporate Housing.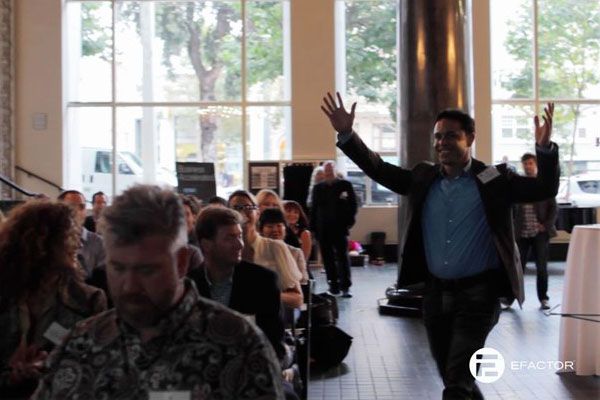 "I had a great time listening to Kevin Harrington talk about his experience with product ideas. It motivates me to revisit some of the product ideas I've had. It was also fun hanging with the EFactor team." --Anthony Gonzalez
Not to mention the moment we've all be waiting for! We are happy to congratulate our grand prize winner, Dale Larson, the lucky recipient of a one hour business coaching meeting with the man himself (a $5,000 value).
It was a stellar night and for those that were in attendance we want to make sure you know how to access your Uber credit, your $50 flight lesson credit, and that you understand the terms of our Visionary Air Flight giveaway that ends on Sunday.
How to access your $20 Uber credit
1. Access your Uber credit by going to http://www.uber.com/go/efactorsf
2. Enter your information including your credit card
3. The promotion code field should be automatically populated, but if not, enter your promo code found in your EFactor inbox
4. Click Sign Up
How to access your $50 flight lesson credit
1. Access your Visionary Air credit by going to http://www.visionaryairlines.com/
2. Select the local area you would like to fly over
3. Enter the date you want to fly, your name and email address
4. On the payment page enter coupon code found in your EFactor inbox
How to enter to win flight around the bay for 2 ($300 value)
1. Log into EFactor.com
2. Click Network
3. Scroll down and click on Import Contacts on the right
4. Select the account you want to access and enter login info
5. Or import from a spreadsheet .csv file
6. As of next Monday whoever has 25 or more friends join EFactor (since the event) will be entered to win a flight for 2 around the bay. We'll draw the winner on Tuesday, September 3.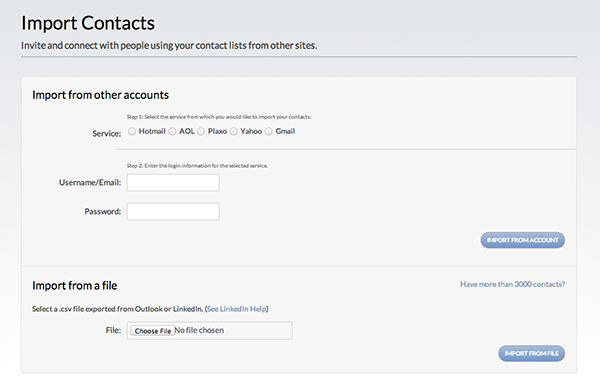 Did you get a chance to try out the Photo-matica photo booth? Get a digital copy of your photo strips by visiting our Key Influencer event photo album on Facebook. Find your photo, right click on it and save it to your desktop, then share it all over your social media profiles.
"Really enjoyed @HarringtonKevin (of SharkTank) in person tonight. Refreshing to step outside tech biz for an evening. Thx @efactorglobal!" --Dale Larson via Twitter (@dalelarson)
"This was a really incredible event. I'm so glad I came and got to see Kevin Harrington and network." --Yimei Miao, Draper University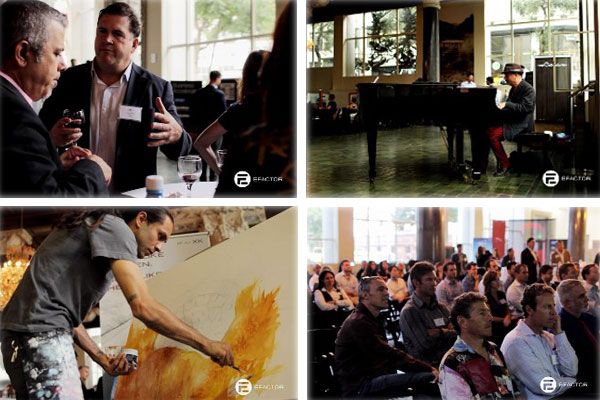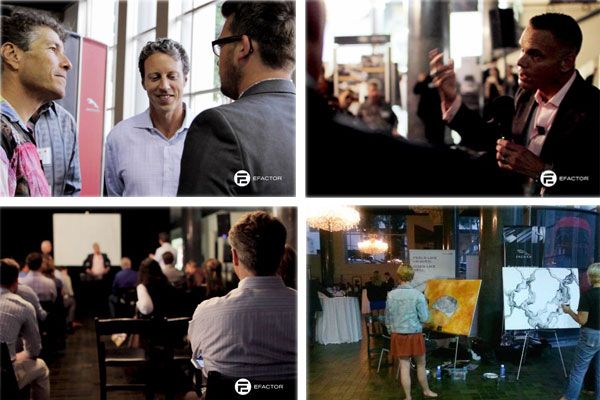 What did you think of the event? Tell us what we could do better by filling out our Survey.
Attending
Agenda
Start Time: 6:00pm
End Time: 9:00pm
Note on Pricing:
Regular Event Tickets- $45
Events Package - $25 (If you have the Events Package, this premium event is available at a discount of $40 off the online price!)
"Hello, Will Kevin Harrington be there? Thank you, Tara Mosley"
Tara Mosley on Aug 12, 2013
"Hi Tara- Yes- Kevin is speaking at the event and we have a VIP reception for EFactor VIP members from 5-6 where all folks can meet Kevin in person. Then he'll do a presentation from 7:30-8:30. "
Michelle Fetsch Aug 12, 2013
"Hello Tara, he will also be at the meeting for www.efreedom2013.com"
Carl Jenson Aug 13, 2013
"Hi Carl- No- EFreedom is an affiliate program and Kevin does NOT attend. "
Michelle Fetsch Aug 13, 2013
"hello What is a uber credit? New user. Thank you. "
Mary Erickson on Aug 11, 2013
"Hi Mary- Uber is an APP that connects people to a car service thats like a cab but they can pay over the app and it allows the customer to see where in route the driver is. https://www.uber.com/"
Michelle Fetsch Aug 11, 2013
"Hi, I have been trying to sign up for this event but bringing a guest, however it does not let me change the quantity of tickets nor register a second person. Help?"
Tal Fogel on Aug 11, 2013
"Hi Tal, Thanks for your message- your guest must register themselves or you have to create a new efactor profile for them and then register. We look forward to seeing you there! "
Michelle Fetsch Aug 11, 2013