WEBINAR: Pitching Your Product to a Shark
A strong product pitch not only converts customers, but do it right and you attract product evangelists. The trick is to make your product sound so good, other people are raving about it. By now we all know that word of mouth travels fast and that is why a great pitch is so important.
To help guide you through the process of creating your perfect pitch, we've invited Shark Tank panelist and product pioneer Kevin Harrington to teach you how to Pitch Your Product to a Shark. During this webinar we will cover:
-Ways to demonstrate product enthusiasm
-How to hone in and present the benefits of your product
-Gauging energy and excitement levels
-Finding ways to present personal connections to your product
-Product pitch presentation methods
Join us for the opportunity to learn all there is know about turning products into million dollar ideas and who better to guide you then Kevin Harrington himself. Founder of the Home Shopping Network and As Seen On TV, he joined the panelist of judges on Shark Tank and recently published a new book: Act Now: How I Turn Ideas Into Million-Dollar Products.
If anyone knows anything about product pitching it's definitely Kevin Harrington. Don't miss out on the opportunity to be educated by an entrepreneurial legend.
Kevin Harrington, chairman and founder of As Seen On TV, Inc., is widely acknowledged as a pioneer and principal architect of the infomercial industry. In 1984, Kevin produced one of the industry's first 30-minute infomercials. Since then, he has been involved with over 500 product launches that resulted in sales of over $4 billion worldwide with 20 products that reached individual sales of over $100 million.
Kevin founded Quantum International, Ltd. in the mid 1980s, which merged into National Media Corporation in 1991. Under his leadership as President, National Media reached $500 million in annual sales, distributing in over 100 countries and 20 languages. This company's success has been chronicled in a case study at Harvard/MIT for over a decade.
Kevin was also CEO of several other entrepreneurial companies including HSN Direct, a joint venture with Home Shopping Network, in 1994 and Reliant International Media in 1997. Reliant International Media was sold in 2007. In 2011, Kevin's company As Seen On TV, Inc. acquired the web property AsSeenonTV.com. AsSeenOnTV.com represents a highly trafficked catalog of direct response products with over two million customers, 700,000 email registrants and hundreds of thousands of unique visitors each month.
Throughout his career, Kevin helped to establish two of the most important and recognized global networking associations: the Entrepreneur's Organization, or EO (formally known as the Young Entrepreneurs' Organization) and the Electronic Retailing Association, or ERA. Today, the EO has 113 chapters in 38 countries. The ERA represents the $125 billion electronic retailing industry and is comprised of over 450 member companies and subsidiaries that use the power of electronic retailing to sell directly to consumers via television, radio, Internet and wireless media in over 100 countries worldwide.
Due to his extensive resume, Kevin was selected as an investor "Shark" on the ABC television series Shark Tank produced by Mark Burnett. The show gives budding entrepreneurs the chance to pitch their products to a panel of acclaimed judges in hopes of turning their ideas into a successful business reality. He recently released a book entitled "Act Now: How I Turn Ideas into Million-Dollar Products" that chronicles his life and experiences in the DRTV industry.
If you are interested in sponsoring or have any questions, please contact Michelle.
Just a tip:
If you are planning on attending more than one of our events this year (each city hosts at least six events), for a small amount only you can buy an events package.
Enroll today and save!
Please let us know via
Member Support
if we can assist you with anything at all.
Join the conversation with #efactorevents
---
Recap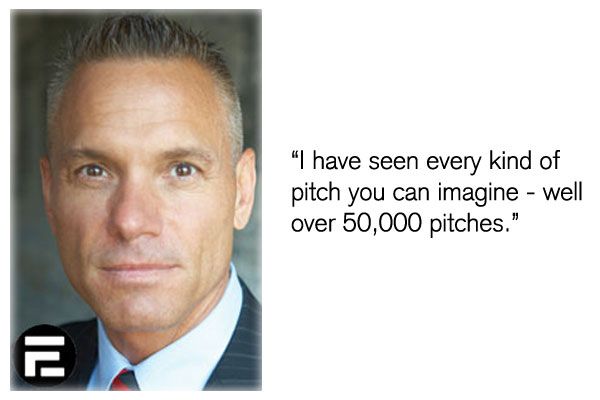 Our newest VIP member and celebrity entrepreneur Kevin Harrington led a dynamic webinar providing the EFactor community with much needed advice about perfecting and presenting a killer pitch to shark investors.
What is Kevin Harrington's advice for a strong pitch?
Understand who you are pitching to. One solid pitch will not work for every situation. When it comes to investors, they want to know how quickly they will get their money back and how proceeds will be used. Bankers want to know about asset values, and angel investors will want to hear a different angle in your plan. Know who your audience is, it's important.
Rehearse, because practice makes perfect.
"I will videotape my pitch. I strongly recommend that entrepreneurs get in front of a mirror and check out their mannerisms and observe how they present or come off. Preparation is important, and make sure you have a strong outline," says Kevin.
The goal is to pitch in 3 sequences and end on a high note. When talking to investors, Kevin suggests ending with an ROI figure.
Tease, please and seize!
1. Grab attention
2. Candy coat the benefits
3. Seal the deal
If you found this webinar valuable, make sure you join the next one featuring Kevin Harrington, Your Product Road Map on 9/25. Catch our live event on 8/19 in San Francisco where you will have the opportunity to meet and network with the shark himself. Ticket holders to the event will be entered to win 1 hour of business coaching with Kevin Harrington. Enter here for your chance to win.
Attending
Agenda
Event Date: August 7, 2013
Time Zone: PST
Start Time: 10:00 am
End Time: 11:00 am
Registration Deadline: August 7, 2013, 9:00 am
"I wasn't able to attend this webinar, so thank you for this terrific recap!"
Ron Villejo, PhD on Aug 12, 2013